Rufftown records signed artiste Wendy Shay has collected her eyes, (kyeres3 wagyi nani so) after posting a semi nvde photo of herself on popular photo and messaging app, Instagram.
The self acclaimed queen of Ghana music has completely lost her sense of decency I guess, because this photo she posted has really caused a lot of uproar and backlash.
Though she might not be the first to expose herself like that, her fans were totally angry and pissed with her new lifestyle as many scolded her in the comments section.
In the said photo, Wendy Shay who was not wearing make ups was seen wearing some skimpy shorts that exposed her unattractive thighs to the world.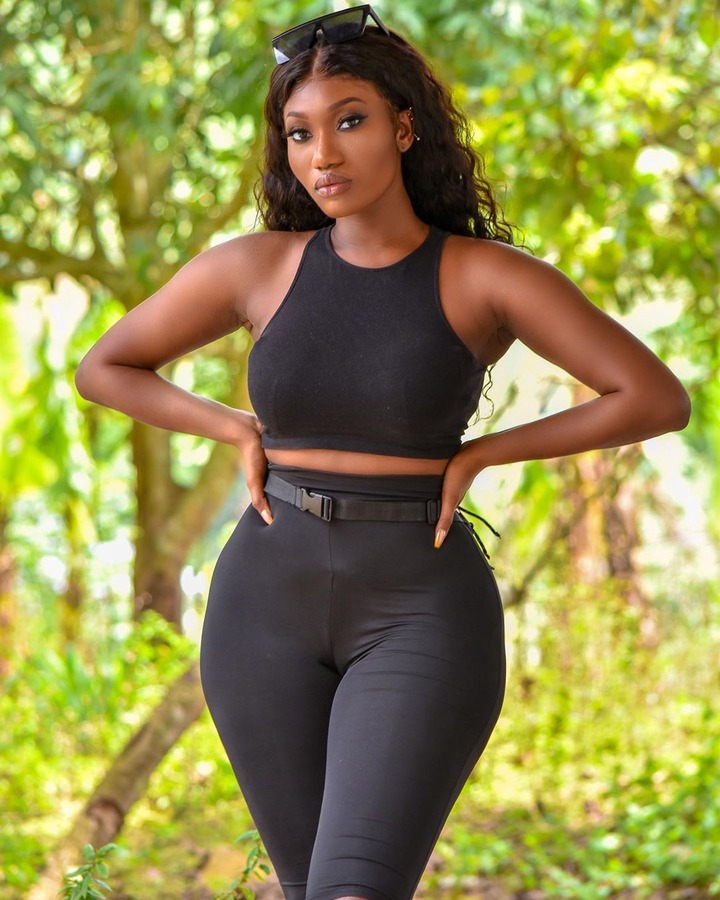 The photo was that bad, that got most of her fans disappointed. Though she might not see the consequences of her current lifestyle now, it will definitely clap back at her when she least expected.
I am not being judgmental, but we all know and are aware of the end of all those celebrities and musicians who resorted to nvdity for fame. If not for anything at all, she should just look at Mzbell and likes for some sense.
And moreover, you are a queen mother who is supposed to set example for others to follow. This is not her first time of exposing herself though but her fans think she went too far with this photo of hers.
You always cry Ghanaians abuse you, but you don't do things that attracts praises.
This is the famous photo Wendy Shay posted that has gotten many talking
Reacting to her photo, these are some of the comments from her fans and followers:
@angelxenom:You are now growing old ohhh🙌❣️❣️
@ obimpehibrahim: OH my gosh please this is Too much please,Do you want to Strip your Self please
@victorianorvivor: man woman
@abena7209: See face like a man, stop exposing urself 😏😏😏 be decent like other female musicians. No wonder Fantana calls u uncle Shay😏😏
@anumosae: U lyk old woman😮😢🔥👏😢😢
@davidjohnson575: Wendyshay, you're not that attractive at all. 🤔🤔🤔🤔🤔
@asare5514: eeii madam Wendy
@nancyyy:Give your life to Jesus and i promise you wont regret it ily all ❤️❤️. Its a sign the comming of the lord is near Repent and give your life to Jesus before its too late. ❤️❤️
The comments are a lot you can check some of them in the screenshots below: