Multimedia Group Limited's Gary Al-Smith who tested positive for Covid-19 and is receiving treatment at the University of Ghana Medical Center has lambasted a fan who said he probably lied about his covid-19 status just so he could go near the place for investigations.
This comment comes after the sensational journalist revealed series of lapses and rot currently ongoing at the University of Ghana Medical Center.
After the Ghana Health service revealed that over 10,000 covid-19 patients have recovered the journalist also came out to say he will be exposing the rot and lapses ongoing at the treatment center.
Fast forward, he took to twitter to reveal some of the short comings he noticed at the treatment center.
According to Joy new's Gary Al-Smith, government has cut of food arrangements that were initially made to provide food for frontline workers at the UGMC.
Gary was admitted at the UGMC last week after he tested positive for Covid-19. Seems the sensational Journalist hasn't only been taking his medication but also doing his professional work at the health Center.
He shared the information in a series of tweet.
"Frontline workers at the UGMC Intensive Care Unit have had their food arrangements cut because, apparently there's no money.
A lot of us non-ICU patients feel very guilty having 3-sq meals, while these heroes, who regularly work 12hr shifts, don't have that privilege.
At least, there's NO LUNCH and no drinking water for ICU frontline workers at UGMC. A memo was sent recently informing them.
GCB's 100K donation was partly to pay for lunch of ICU staff and volunteers. Unclear if the money is finished.
Help us change this, please.
When the COVID-19 fight started, there were arrangements for regular food and water for them.
Now, with numbers of patients increasing – especially the critical and severely ill – it is quite sad that these important things have been cut.
You'd recall that my colleague @TheIsraelLaryea made a public appeal for mattresses this wk. That's bcos he'd been informed that the frontline workers are unable to get mattresses to sleep on between shifts. Israel's call led to Ashfoam making a same day donation.
What happens is that when they clock off, these volunteers and staff of the ICU now have to go and look for food, themselves. " Gary narrated what is going.
After he revealed the above a fan named Yao also asked him if he is indeed covid-19 positive because it seems he is only at the place to investigate.
replying the naysayer Gary said;
Yao if I am not sick and faking it, may covid-19 kill me.
If I am sick and not faking it, may you get affected by covid-19 and may it teach you a lesson. Amen.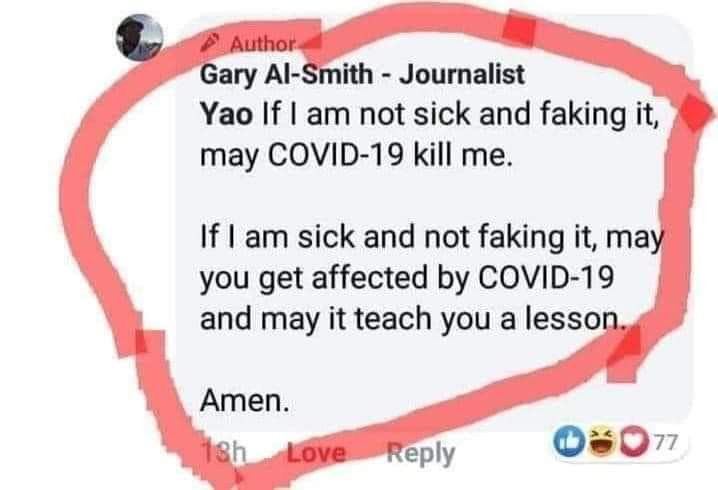 Al-Smith is one of five staff at the Accra office of the media company who have tested positive for the disease and are asymptomatic and have been isolated.
The management of the company has since put out a statement explaining the positive cases at its premises in Accra were discovered after contact tracing by the Ghana Health Service (GHS).